Travel
Our Cozy Fall Front Porch Decor • The Blonde Abroad
This post was written in partnership with Walmart. As usual, all opinions and thoughts expressed here are entirely my own. 
Since COVID, there's been a lot of changes in how I spend my time and how I shop.
For one thing, having just bought my first home, I'm spending a lot more time looking at home decor than ever before—and spending my money on items to make the house more "my own"!
I'm also not spending as much time going into stores and doing my best to stay socially distant while shopping for home decor. So, when there's an opportunity to shop online and have it delivered same-day, or when I can quickly have a contact-free checkout in store, I'm totally in.
That's where the new Walmart+ membership shines.
I recently spent some shopping for plants and flowers for a fall-themed front porch at Walmart's Garden Center. I came across tons of beautiful options, and I was impressed by the seamless contact-free checkout process with the membership's mobile scan & go benefit.
Here are my tips for decorating a cozy fall front porch!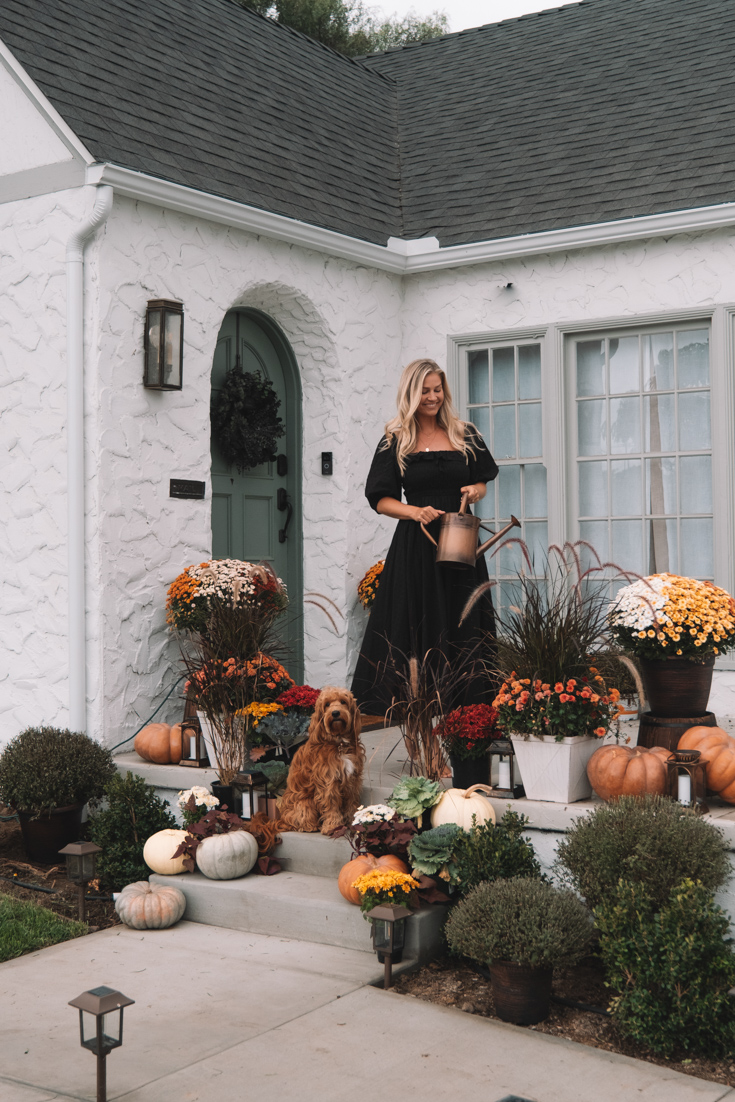 Decorating Your Front Porch with Fall Foliage
This will be our first holiday season in our new home so I've never been so excited to decorate. Luckily, my local Walmart's Garden Center has an amazing and inexpensive selection of perennials, plants, and decorations for the holidays.
I'm SO in love with my mums!
If you want to add some more "fall" to your front porch or even balcony, here are some of the best things to include to give it that cozy autumn feel:
Chrysanthemums (Mums), Amaranthus, and Marigolds — they come in beautiful oranges, yellows, reds, and whites
Pumpkins + Gourds — artificial, carved, uncarved
Sage, Ornamental Cabbage, and Kale — add a little greenery to the mix
Crotons or Ornamental Grasses — beautiful fall-colored foliage
Solar Lanterns + Candles
Be sure to check what types of foliage grows best in your local climate, too!
Helpful Tip: Stick with a color scheme. I personally like deeper and richer yellows, oranges, and burgundies. Height also plays a big factor in the overall look of your porch, so don't be afraid to layer different sized plants. If you don't have stairs, use different sized pots, or stack your plants on boxes to give your porch the illusion of scale.
Check out more of Walmart's garden + fall goodies!

Shopping for Fall Essentials with Walmart+
With great prices on perennials and home decor, Walmart has been my go-to this season. While I do most of my shopping online, I prefer to handpick my flowers and plants so I've been going into the store to peruse.
At my local store, I'm able to use the Walmart+ mobile scan & go benefit, so I can save time as I shop in-store—I just scan my items and checkout, all from my phone!
The contact-free shopping experience makes me feel more comfortable going in-store and makes the trip way more efficient, in my opinion.
Depending on your area, you can get Walmart+ benefits like:
Free unlimited delivery (sometimes same-day!), on anything from groceries to decor for your porch. Restrictions apply.
Mobile scan & go, so you can shop & check out (contact-free!) with your phone in-store
Member prices on fuel to save 5¢ per gallon at Walmart & Murphy stations
If you shop at Walmart frequently or get your groceries delivered often, the Walmart+ membership pays off quickly. It's only $12.95/month or $98/year, and the membership pays for itself in just two deliveries a month (based on the $7.95 delivery fee).
They offer a 15-day free trial, so why not check it out and see if it works for your lifestyle?
Check out the Walmart+ benefits available in your area!

What fall decorating tips do you have?